Sleek, elegantly designed, yet powerful, the Panasonic 20W Micro Hi-Fi System with AM/FM Radio provides clear and crisp audio playback while seamlessly blending with various interior designs.
Key Features
The Panasonic 20W Micro Hi-Fi System with AM/FM Radio has a 2-channel digital amplifier for full-range, dynamic sound with minimal distortions and enhanced clarity.
Integrating Bluetooth connectivity and supporting CD, USB, and AM/FM radio, this Panasonic Micro Hi-Fi system can access different music sources. Use the Panasonic Music Streaming app (download required) on your paired device to control and stream your content.
This Hi-Fi system can be placed on a shelf or wall-mounted to suit different living room setups.

---
Slim Stylish Compact Micro System SC-HC200GN-K Black
Stylish Audio for Modern Living
The HC200 sports a slim design, yet it delivers pure and clear sound with minimum distortion. It lets you enjoy not only CD and radio but also various other music media via Bluetooth. In spite of its reasonable price, the HC200 will bring a new music experience to your life.
20W, 2ch Digital Amp, 8cm Full-Range Speaker Units, Bluetooth, CD, USB, 30 FM Radio Presets, 14 AM Radio Presets, Compact Design
Slim & Compact Design
Harmonises with any space
Pure, Distortion-Free Sound
Impressive full-range speakers
Variety of Music Sources
Bluetooth, CD, USB & radio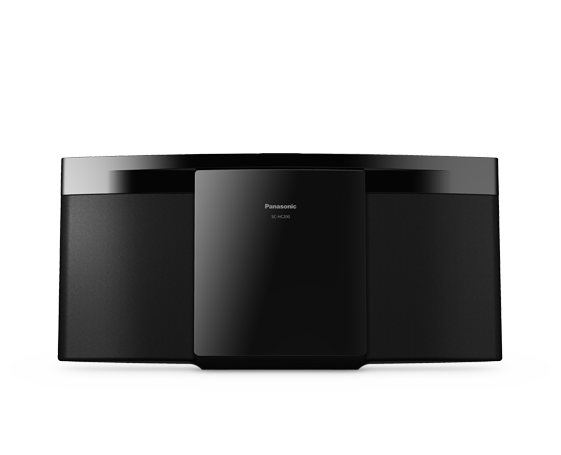 Clear and Dynamic Sound
The compact and slender case is home to the latest sound technology. The 2ch digital amplifier represents the centerpiece which delivers a clear and d…
Slim and Stylish Design
This simple yet elegant design blends perfectly with any room interior from traditional to contemporary.
Designed for Music Lovers
Whether you enjoy listening to more traditional sources such as your CD collection or radio broadcasts, this flexible HiFi system also embraces the latest in music streaming services too via Bluetooth. Just download the free Panasonic Music Streaming App to control and stream all the content you love from your favourite music subscription services.